" Time is Money in the Shipping Business…"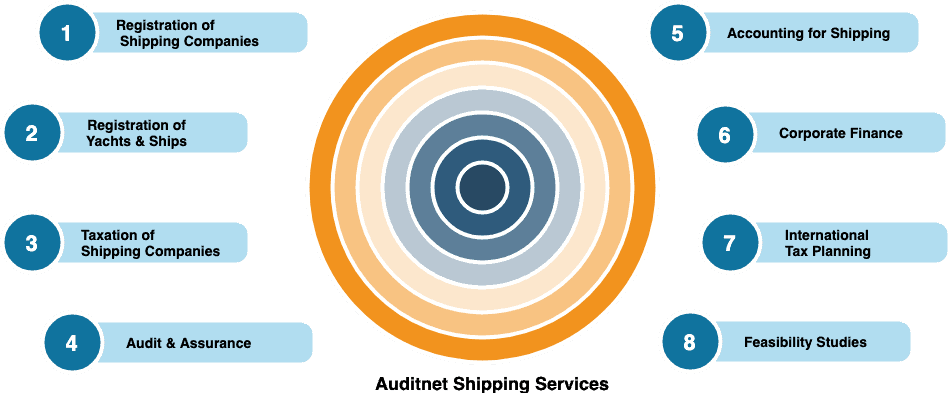 Our shipping services:

• Registration of Shipping Companies
• Registration of yachts and ships
• Taxation of shipping companies
• Audit & Assurance
• Accounting
• Corporate Finance
• International Tax Planning
• Feasibility Studies
Registration of Shipping Companies

All non-European ship owners who wish to register a vessel under the Cyprus flag must form a Cyprus Shipping Company which will own the vessel in its name. Under the provisions of the Cyprus Companies Law, Chapter 113 as amended, the company is registered as a private company with limited liability. The company must have a registered office in Cyprus.
Registration of yachts and ships

Ship registration is the process by which a vessel is documented and given the nationality of the country to which the ship has been registered with as proof of ownership, thereby allowing it to travel internationally.
International law requires that every merchant ship is registered in a particular country, known as its flag state, the ship must abide by the laws of its flag state. The flag state exercises regulatory control over it and must inspect it regularly to certify it's equipment and crew and issue the relevant documentation required.
Due to the current taxation in Cyprus, the Cyprus flag is considered to be a leading choice.
Taxation of shipping companies

Taxation of shipping companies is a very particular area of taxation and is governed by various laws and regulations. There are specific regulatory and legal requirements and procedures which need to be followed. By implementing appropriate tax structures, shipping companies can eliminate their tax liability.
Audit & Assurance

Our shipping specialists have the necessary knowledge and experience in maritime issues and are able to provide our clients with audit & assurance services related to their shipping needs. Services include the preparation of assurance reports; review of internal controls and audit of financial statements.
Accounting Services

Like other areas of accounting, shipping accounting for shipping has its own regulations and standards that have to be followed to be able to adequately offer accounting within the shipping industry. We have a team of professionals with a specific shipping interest in shipping who remain up to date with the relevant standards and regulations related to the shipping industry and who are well equipped to assist you with all your regarding shipping needs.
Corporate Finance

Corporate finance deals with the financial and investment decisions of a company with the aim of maximizing shareholder value through long-term and short-term financial planning and the implementation of efficient strategies. We can assist with all your corporate finance needs ranging from capital investment decisions to assistance with raising finance and banking.
International Tax Planning

Shipping is an international industry which must navigate a sea of multifaceted tax legislation and rules in several jurisdictions at once. This is made even more challenging due to the ever-changing national tax rules. Adequate and efficient knowledge of the relevant taxation in various jurisdictions can lead to the use of effective structures which minimise the tax liability.
Feasibility Studies

Feasibility studies are essentially an analysis of the ability and likelihood of completing a project successfully by taking into account all relevant factors that could affect the project such as economic and legal factors. The right feasibility study can help investors to determine the potential outcomes of a project before investing time and money. Our feasibility studies extend to the shipping industry.
Ready to talk with one of our experts? 
We work with ambitious companies from all around the world who want to reach their business goals. Together, we can shape your business future and achieve extraordinary results.